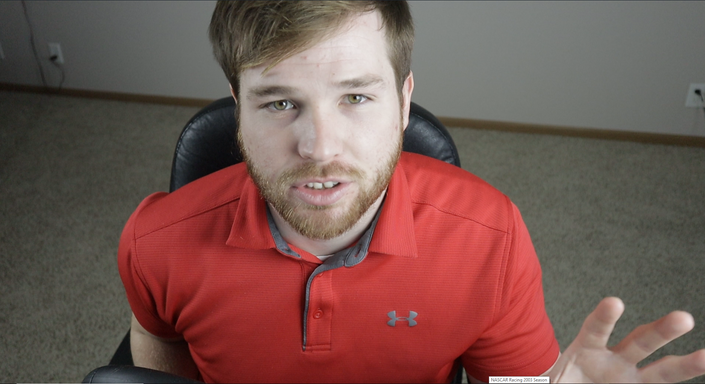 Shopify Dropshipping Made Simple [2020 Edition]
Everything You Ever Wanted To Know About Shopify Dropshipping - Secrets No One Tells You
Enrollment will be shut down and replaced with this https://bye9to5official.com/course/ in:
Imagine being able to quit your job and work from home TODAY, all while making more money than you ever thought possible. Imagine if that could start RIGHT NOW. I was once in your shoes, and in two months time I was able to accomplish just that. My ultimate goal is to help you do the same thing because there is truly nothing better than living life on your own terms. That is why I have created this course.
In this unique course I will take you step-by-step through creating a Shopify store, creating facebook ads and targeting the correct demographic, choosing a niche, products, pricing, and much more in an easy, step-by-step format. I will teach you how to make money on Shopify using the EXACT blueprint I use. I will teach you the essential secret tricks I have used that you will not find anywhere else. I will serve as your over-the-shoulder guide through the entire process, and together we will accomplish your wildest dreams.

You will also be given access to a special mastermind group I have created where I will answer any questions you have. In addition, all members will have the ability to discuss questions and give feedback and tips to each other. You will also have the ability to leave comments and questions right there on any lecture you want and I will be able to respond and help you through it right there on the course in real time!
If you apply my blueprint and secrets I have no doubt you can make the investment on this course back and start earning substantial income TODAY. Imagine being able to quit your job and work from home RIGHT NOW. The only thing holding you back from reaching your full potential is yourself, and today we will change that together. You will receive IMMEDIATE access to the course as soon as you checkout!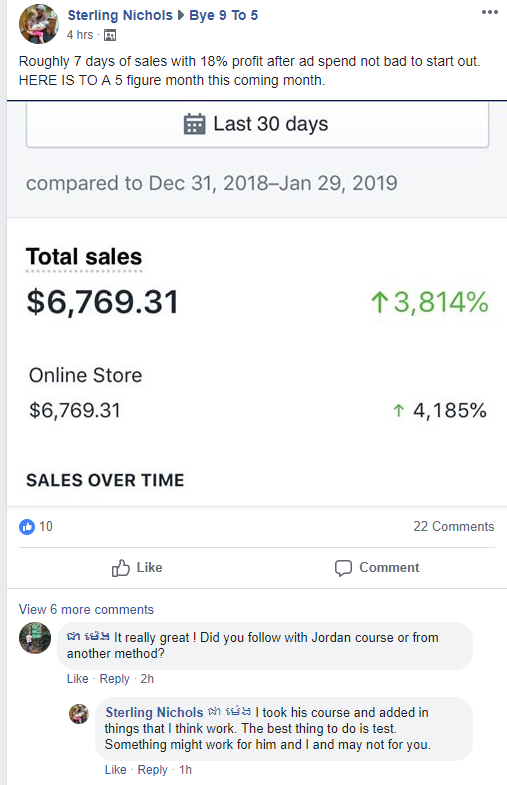 100% Risk Free Money Back Guarantee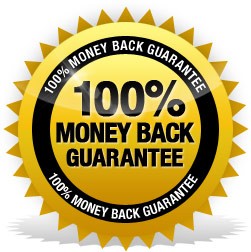 24 hour money back guarantee. Valid only if you have viewed less than 25% of the course. It does not matter if you click "complete" or not, we have a chart that shows how much of each lecture you have watched. Absolutely NO exceptions!
(Disclaimer: The results shown here may not be accurate and have not been verified and are for example purposes. We are in no way giving a guarantee that these results are typical or that you will get these results. These are results that are possible if you put in the work. You could make this much, and you could make nothing. By purchasing this course you are agreeing to the refund policy and agreeing that I am not held liable in any way for what you do on Shopify, Facebook, Instagram, taxes, etc., and I am not held liable in any way for any success you do or do not have with this program. All facts and figures shown or stated here or anywhere else are for example purposes and have not been verified. It is possible that you make this much, and it is possible you make nothing. It all depends on the amount of work you put in. You agree not to rely upon any of the facts or figures given here or elsewhere (Youtube videos, facebook group, etc. with regard to Bye 9 To 5 or Jordan.) I am not giving you legal or financial advice, and this is not made for that purpose.)

Get started with Shopify with a 14 day free trial, on me: https://www.shopify.com/?ref=bye-9-to-5

Payments are 100% secure through Stripe.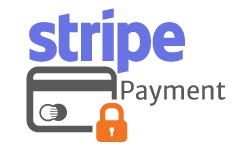 **THIS COURSE IS 5 HOURS LONG**

Your Instructor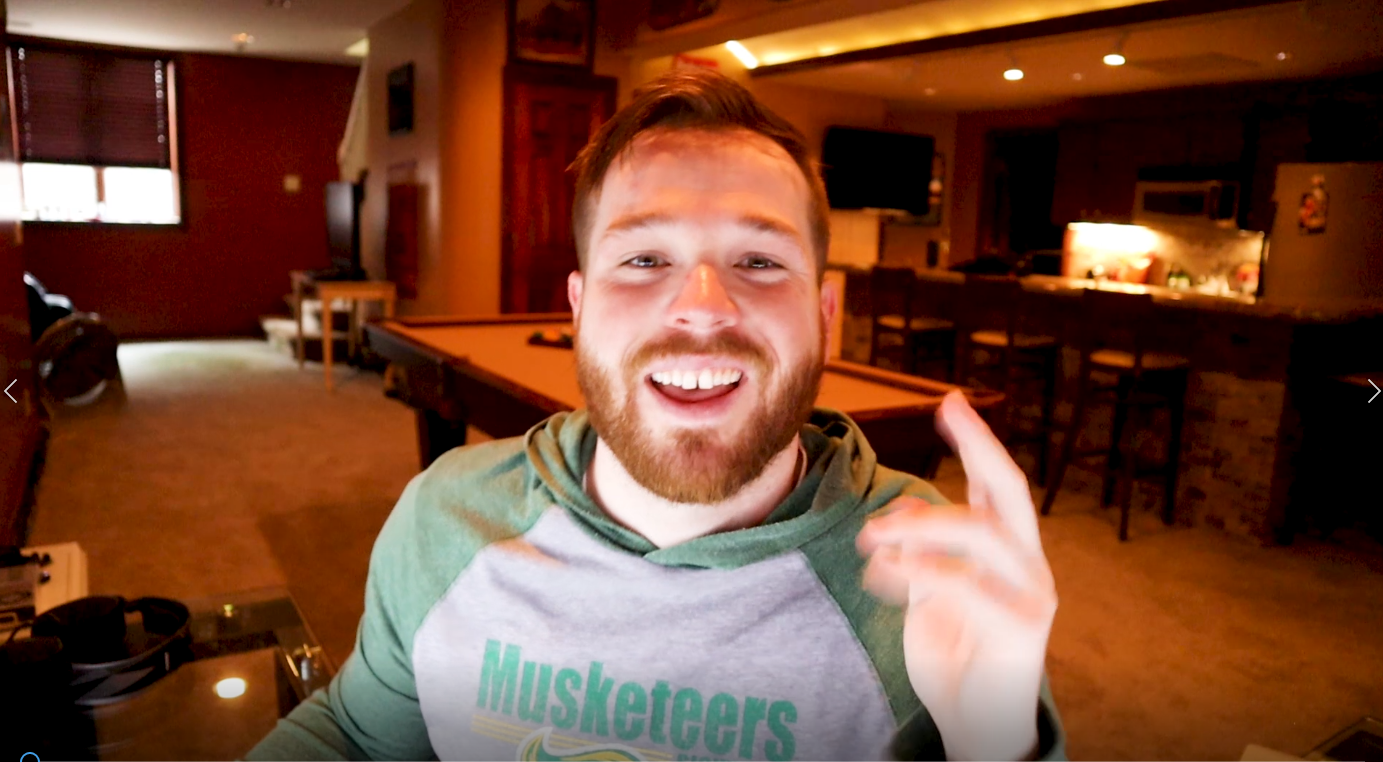 My name is Jordan, also known as Bye 9 to 5. I was a business analyst at a very successfully company and have a Masters Degree in Business Psychology, but I hated my job! So I decided to do something about it. Since that time I have been blessed to be able to say bye to my 9 to 5. I have helped countless students do the same thing, and it is my goal to help as many people as possible quit their job and live life on their own terms like I have been blessed to be able to do!
Course Curriculum
Introduction
Available in days
days after you enroll
Module 1: Creating Your Shopify Account
Available in days
days after you enroll
Module 2: Setting Up Your Shopify Store
Available in days
days after you enroll
Frequently Asked Questions
When does the course start and finish?
This is a self-paced course so you can learn whenever you want at your own speed! I will continue to add modules and lectures and keep the content updated and relevant to today! It is a completely self-paced online course of video modules. You will have access to this course forever, or for as long as Teachable is in existence! You can also access this course on ANY device, including cell phones and tablets!
What will I get out of this course?
You will receive step-by-step training on every single aspect of the business. From creating your Shopify account to creating your store, implementing crucial apps, facebook ads and targeting, niche ideas, product ideas, and secret tricks I use to gain traffic and turn that traffic into a purchase. You will also receive access to a special mastermind where I will answer any questions you have and can get tips, tricks, and answer questions from other students!
Does this actually work?
It worked for me and countless others and I know it can work for you with the right blueprint and secrets, which you will learn right here! The only thing that will allow it not to work is if YOU do not put in the work!
Why The Price?
This is actually by far the cheapest course you will find for the value. There isn't another course like this, and I have seen many courses not as good as this one charge $497, $997, even $2,000! I have personally had to pay for some of the information that is in this course, and I paid much more than you will have to!
What if I am unhappy with the course?
We offer a risk free, 24 hour 100% money back guarantee. Valid if you have watched less than 10% of the content.